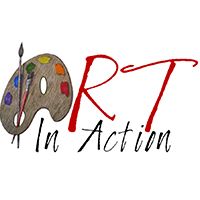 This fun family event will inspire artist and bring an appreciation to the many talented artist that we have in our community! Come stroll thru the Farmer's Market and watch as local artist create their most recent work of art!
The next Art in Action is Saturday, March 16, 2019, from 11:00 am to 4:00 pm. Children will have an area designated as "Future Artists in Action" to create their own souvenir T-shirt. Whether you are interested in buying art or just watching art come to life with a painter's brush, you're invited to Art in Action.

2019 Art in Action Brochure/Registration
once registration is completed email to
If you would like to pay and register online, click on this link
CALLING ALL ARTISTS
Applications will be available online for those interested in participating as an artist in this art show. There are 2 levels: $50 to compete for prizes or $20 to participate. All artists are encouraged to showcase their work.
For more information, please contact Peggy E. Hutton at or 817-596-3801.