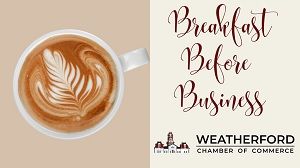 The Weatherford Chamber of Commerce holds breakfast meetings on the second Friday of each month from 7:30 to 9:00, except for February, July and December.
This event is open to all chamber members and is a wonderful way to network with other members while listening to a variety of speakers.
This is also a great opportunity to showcase your business by being a sponsor. Check the Chamber calendar for more information.
Sponsorships for 2022 are sold out! 2023 dates will be posted soon.