Joining the Weatherford Chamber of Commerce is one of the best investments your business can make. Whether you are looking for referrals, for ways to promote your business, to be a good corporate citizen, to network and get involved in the community or to just save money, you've come to the right place.
The Weatherford Chamber of Commerce - We Mean Business!
Established in 1912, the Weatherford Chamber is more than 800 members strong.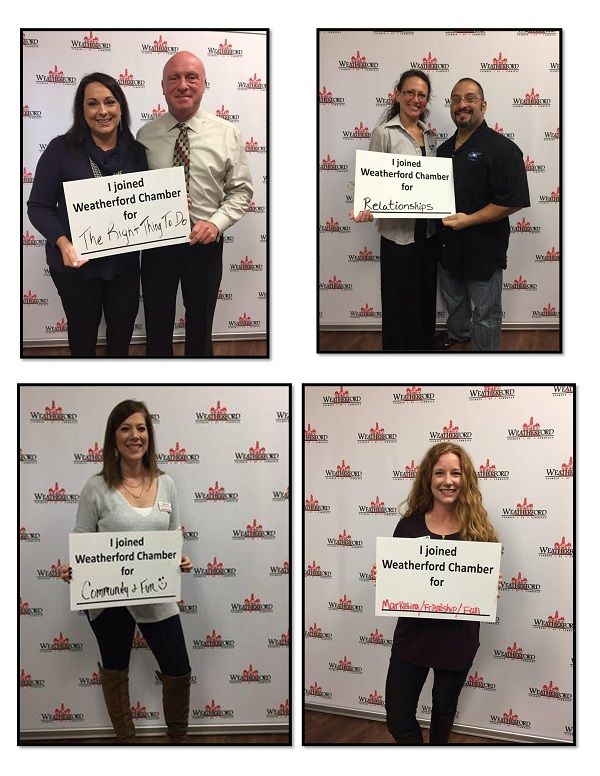 The Chamber is committed to making our community a better place to live and work by demonstrating leadership to improve our economic climate through the promotion of tourism, business and industry. In other words, we just want to make Weatherford the best place it can be! We do this through the hard work of individuals who volunteer their time and talents to make a positive impact on the community. You can help.
People like to do business with people they know. The Weatherford Chamber provides numerous opportunities to network with other business professionals.
We invite you to become a part of the most dynamic organization in town.

Platinum, Premiere & Elite Members listed on home page
(Company logo linked to website)
Star Members listed below
GOLD STAR MEMBERS
ClearSky Health
Hooks Lincoln
Roto-Rooter Plumbing and Drain Service
USHealth Advisors
Community National Bank of Texas
Olympus Willow Park Apartments
Shottenkirk Toyota of Weatherford
Waste Connections
Home Zone Furniture
Roger Williams Auto Mall
Slocum Heating and Air Conditioning, LLC
United Rentals
SILVER STAR MEMBERS
Advance Well & Pipe Services
Group W. Productions
Home Depot
Lone Star Ag Credit
Pulliam Pool Builders, Inc
Wal-Mart Super Center #963
BentOak Capital
Higginbotham
Leon Henry: Ameriprise Financial Services, Inc.
Parker County Today
Purely CBD
Weatherford Candle Company, LLC
George Morgan & Sneed PC
Holiday Cleaners
Linebarger, Goggan Blair & Sampson
Prosperity Bank
Texas Bank Financial
Bronze Members
Aim Mail Center
Baylor Scott & White Family Medicine
Business Done Right
Christian Brothers Automotive Weatherford
Create the Magic Travel
DFW Roll Off
Edward Jones-Christopher Shae
Flying Tire Bicycle
GS Realty Team at Fathom Realty
HTeaO
Jacy Guynes State Farm Insurance
Lisa K. Ham- Fathom Realty
Maxx Outdoor Equipment
Painted Pony Tea Room & Cafe
Parker County Hospital District
Rachel Patillo-RGP Realty Group, LLC
Service Master by CST Restorations
Sleep Experts
Sunny Street Cafe
Tarleton State University
Tri-County Electric
Vertical Roofing
Wofford Realty
All Sports Media Services
Beyond Faith Hospice, LLC
C & G Roofing
Clark Real Estate Group
David Ford State Farm Ins.
DMO Construction Services
EECU
Gardens of Weatherford
Hartin Tree Service
Integrity Constructions Group
John Askew Company
Little Extras, The
ONCOR
Painting with a Twist
Paschall Insurance Group, LLC
Rebuild Texas Roofing & Windows
Sewell Title Co.
Smart Seal Foam Insulation, Inc.
Surepoint Emergency Center-Weatherford
Teskey's Circle T Saddlery
Trickle Creek Events
Weatherford Deals
Xscape Entertainment
AME Cigars, LLC
Blessings Recycled Antiques & More
Center Point Renovations
Compass Bank
David's Western Store
Dralco Systems, LLC
Epic Orthodontics
Grandview Bank
Homestead Kate's Estate Sales & Services
It's My Time To Travel
Kathy Ireland Worldwide
Lone Star Pain Medicine
ONEOK
Panera Bread
PPG Paints
Renea Skelton
Sibbco Excavators
Stewart Title Weatherford
Taylor Tile and Design
Texas Ranch Sales
The Cliff's Resorts
Western Star Concrete
Ann Aaron Contracting & Roofing, LLC
Brookshire Food Store
Century 21 Judge Fite Company
Cox Financial Group
Deluxe Nails & Spa
E6100 Processing
Film Alley Weatherford
Greene's Florist
Honor Insurance
J.B. Gross Insurance Agency
La Quinta Inn & Suites
Mader- Bagley State Farm Ins
Outlaw Dirt Service
Parker County Coffee Roasters
Professional Caretakers
RocK'nF
Simms Lumber Company
Sugar Tree Golf Club
Terra Firma Real Estate, LLC
Thomas Walters Estate Planning
Vick Carney, LLP
White's Funeral Home