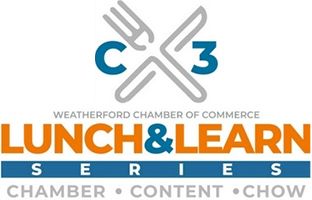 The Lunch & Learn Series is held quarterly and conducted by business experts.
The workshops feature a wide variety of topics that are helpful for anyone involved with a business, from owners and managers to entry-level employees. Please check the calendar to register for the next workshop.
Join us at our next Lunch & Learn!
Friday, Aug. 30 | 12:00 | Fairlfield Inn | 175 Alvord Dr. 76086
$20.00 Includes lunch
Register by clicking here!