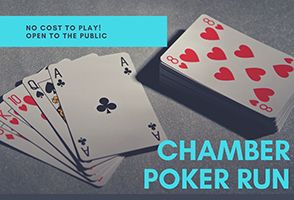 Poker Run is last full week of October. It's a great way to visit the local businesses and shop local.
Each day you will learn about the sponsoring business and receive a playing card. You can earn an extra card each day if you bring a bag of unopened, individually wrapped candy (all candy received will be donated to a local Safe Halloween event). Friday is the final showdown and the player with the best hand will receive the CASH jackpot prize! Check our events calendar for information.
Visit these businesses to participate in the Poker Run. Bring a bag of indiviually wrapped candy to receive an additional card.
Monday, Oct. 21 @ 4:00 White's Funeral Home
Tuesday, Oct. 22 @ 4:00 AMS Storage
Wednesday, Oct. 23 @ 4:00 Texas Star
Thursday, Oct. 24th @ 4:00 City of Weatherford
Friday, Oct. 25th @ 4:00 Waste Connections (FINAL SHOWDOWN)