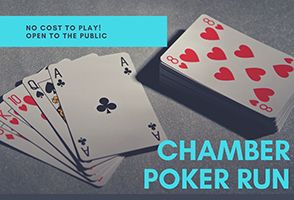 What a great way to visit the local businesses and shop local!
Participate in the Annual Chamber Poker Run!
Monday, October 23 through Friday, October 27
4:00 Daily
PUBLIC INVITED!!
Bring an unopened bag of individually wrapped candy each day & 6 extra on Wednesday for an extra card.
All candy collected will be donated to the Weatherford College Safe Halloween
HOW DO I PLAY?
Join us each day at the sponsoring businesses and receive your playing card.
Friday we will host the "Showdown" for a chance at the Jackpot and lots of other great prizes!
Monday, Oct. 23

Integrity Land Title
220 Fort Worth Hwy St. 125 76086

Tuesday, Oct. 24

Podiatry Associates of Texas
912 Foster Lane 76086

Wednesday, Oct. 25

Baker Firm-Fidelity National Title
132 Austin Ave. 76086

Thursday, Oct. 26

Lightfoot Mechanical, Inc.
1026 Fort Worth Hwy. 76086

Friday, Oct. 27
TexasBank
901 Santa Fe Dr. 76086