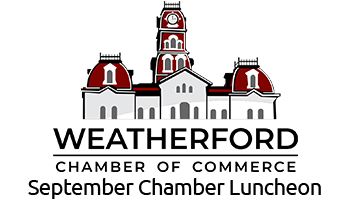 Mark your calendars for the September Chamber Luncheon. Each year the Business Development Committee invites a special guest speaker that motivates, educates or entertains.
Come network and enjoy the largest general membership luncheon of the year.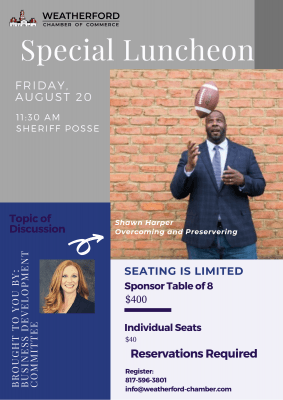 Special Guest Speaker:
Shawn Harper- Overcoming & Persevering
Shawn Harper was one of six children raised in a single parent household in Ohio. Shawn had major challenges and obstacles in his life.
He struggled with several learning disabilities such as dyslexia, memorization and a slew of other things. The many challenges he faced
could have set the course for an unfulfilled and wasted life.

Harper's mission is to help as many as possible to overcome their own challenges and discover how to live out their God-given potential.
Through speaking and writing, he provides wisdom, encouragement, advice and practical tips on how to win in all aspects of life.

Sheriff Posse
Friday, August 20
11:30 a.m. to 1:00 p.m.
RESERVE YOUR TICKETS NOW!
Sponsor Table of 8- $400
Individual Seats: $40.00